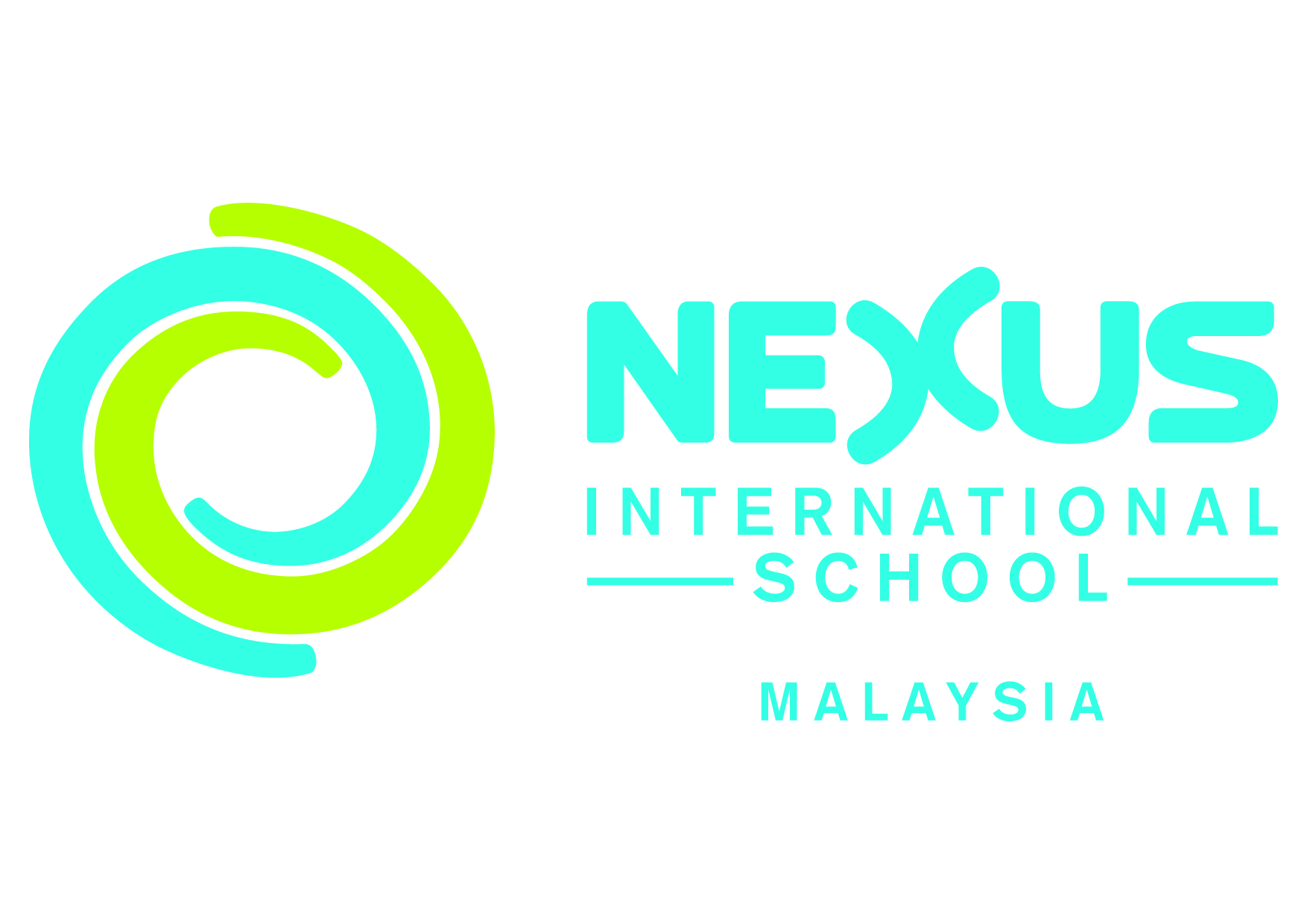 Nexus International School Malaysia
I jalan Diplomatik 3/6 Presint 15, Putrajaya, 62050, Malaysia

Make an Enquiry
What is Nexus International School Malaysia like?
Nexus International School is a member of Taylor's Education Group, which is one of the largest private education group in Malaysia, with over 22,000 students. With an unsurpassed track record built up over the last six decades, Taylor's has earned a reputation as the leading private educational provider in Malaysia, Singapore and the region to offer a wide breadth of education, from pre-school to postgraduate course. The school is located in Putrajaya, the administrative capital of Malaysia and has grown into an inviting place, with great facilities, close proximity to good neighbourhoods and ameneties as well as an open, green campus suitable for extensive outdoor activities.
In addition, Nexus offers a Boarding House which provides flexible boarding options for ages 10 to 18 years old. Founded in 2008, Nexus International Schools offers the IB Diploma Programme as a pre-university qualification for senior learners. International Primary Curriculum is offered at the primary school and the IGCSE curriculum in lower secondary. The delivery of the curriculum and the philosophy of the school - The Nexus Way, offers seamless transition in style, structure and approach to the IB Diploma Programme. The has consistently produced excellent academic results year-after-year with learners achieving a Perfect Score (45 points) 3 years consecutively. In 2021, the school is proud to be ranked as Top 2% Global IB Schools in the World and Top 50 in Asia, cementing its position as a Top IBDP School in Malaysia.
Would Nexus School be suitable for my child?
Nexus is a learning focused school, empowering learners through the Nexus Way. The community encourages its learners to embrace diversity and to be open-minded so that they are prepared for the challenges ahead as future global leaders. Relationships, Innovation, Inclusion, and Mindsets – these are the four elements that make the Nexus Way, which guides the Nexus community.
Mindset
Nexus believes that developing a set of general competencies and a positive mindset underpins academic success as well as happiness and personal growth. Developing children as effective learners requires paying attention to developing their attitudes, skills, strategies, and be­haviors as well as their content knowledge and academic skills. Nexus balances academic demands with an emphasis on growing good citizens. The school helps its learners become self-aware and to develop the skills for good decision-making.
Relationship
As learning is the focus for everything the school does, children at Nexus are referred to as learners. Furthermore Nexus emphasises that its teachers develop a learning focused relationship "a relationship between teacher and learner, where both the teacher and learner want to work together and know how to work together on the learning".
Inclusion
Nexus believes that children benefit from diversity and that all children deserve an excellent, child-centered education. Our inclusive admission policy means that learners are widely varied in abilities, skills and needs. Some learners will be working on skills at Mastering level (A*) and others at Pre-foundation (G). Therefore Nexus designs learning experiences, using a range of differentiation strategies, to ensure all learners achieve their best and are challenged appropriately.
Innovation
The recognition of Nexus International School by Apple Inc. as an Apple Distinguished School highlights its success as an innovative and compelling learning environment that engages students and provides tangible evidence of academic accomplishment. Students at Nexus are called 'learners' for a reason. They are not passive recipients or consumers of content they are actively involved in the process of finding, creating and understanding content.
What are Nexus School's Academic strengths?
Nexus achieved an outstanding average Value Added of 4 points per learner, placing the school in the top 1% in the world for progress made by learners. This is true to the school's philosophy - every learner achieves at Nexus and is testimony to the 1:1 teacher student support and mentoring received by all learners. Notably, four learners over 3 years, have achieved a perfect score of 45 points. Typically only about 150-200 students in the world achieve this score every year, which puts Nexus learners amongst the top in the world with access to the best universities and pathways. 16 out of 35 of graduates in 2021 achieved more than 40 points - more than quadruple the world average.
Nexus' graduates came from diverse nationalities namely from Malaysia, Korea, China, Belgium, Italy, New Zealand, United Kingdom, Yemen and Bangladesh, which offers a truly international experience for learners. Boarding adds to the benefits of a Nexus education with 30% of the top achievers being part of the boarding community. Nexus boarding is ideal for exam year students, offering a good routine, balanced lifestyle, peer-to-peer and expert teacher support.
What Facilities are available?
Nexus is equipped with world class facilities to ensure learners will get the best environment to grow, learn, and excel. From classrooms and labs to sporting facilities such as a gymnasium and swimming pool, Nexus integrates state-of-the-art technology and high quality materials for a better experience. Safety and security is paramount and a strict security policy is put in place at Nexus. Security guards are stationed around the campus 24/7 and CCTV cameras are installed in corridors to monitor all activities within the school compound. View our 360 virtual video tour to get a better picture of our campus or click here to experience the virtual tour on our website.
-Dedicated IB Learning Hub
-600 seats Theatre
-Visual Arts, Photography & Virtual Reality Rooms
-Science Lab & Makerspace
-Athletic Field
-Swimming Pool
-Indoor Gym
-Tennis Courts
-Counselling Room
-Cafeteria
-Alternative Pathway Unit
How Can I apply to Nexus School?
Visit the website for further information about Nexus or fill in the e-application form here. For further enquiries please contact the Admissions Department at +60 3 8889 3868 / +6017 606 6255 (Whatsapp Only) or admissions@nexus.edu.my.
Tel:+60 3 8889 3868
Fax: +60 3 8889 4828
Whatsapp: +6017 606 6255 (For Admissions matters only)
Email: enquiry@nexus.edu.my (general enquiries) admissions@nexus.edu.my (admissions) hr.general@nexus.edu.my (HR)
Address: No. 1 Jalan Diplomatik 3/6 Presint15, 62050 Putrajaya, Malaysia.
School Video
Photos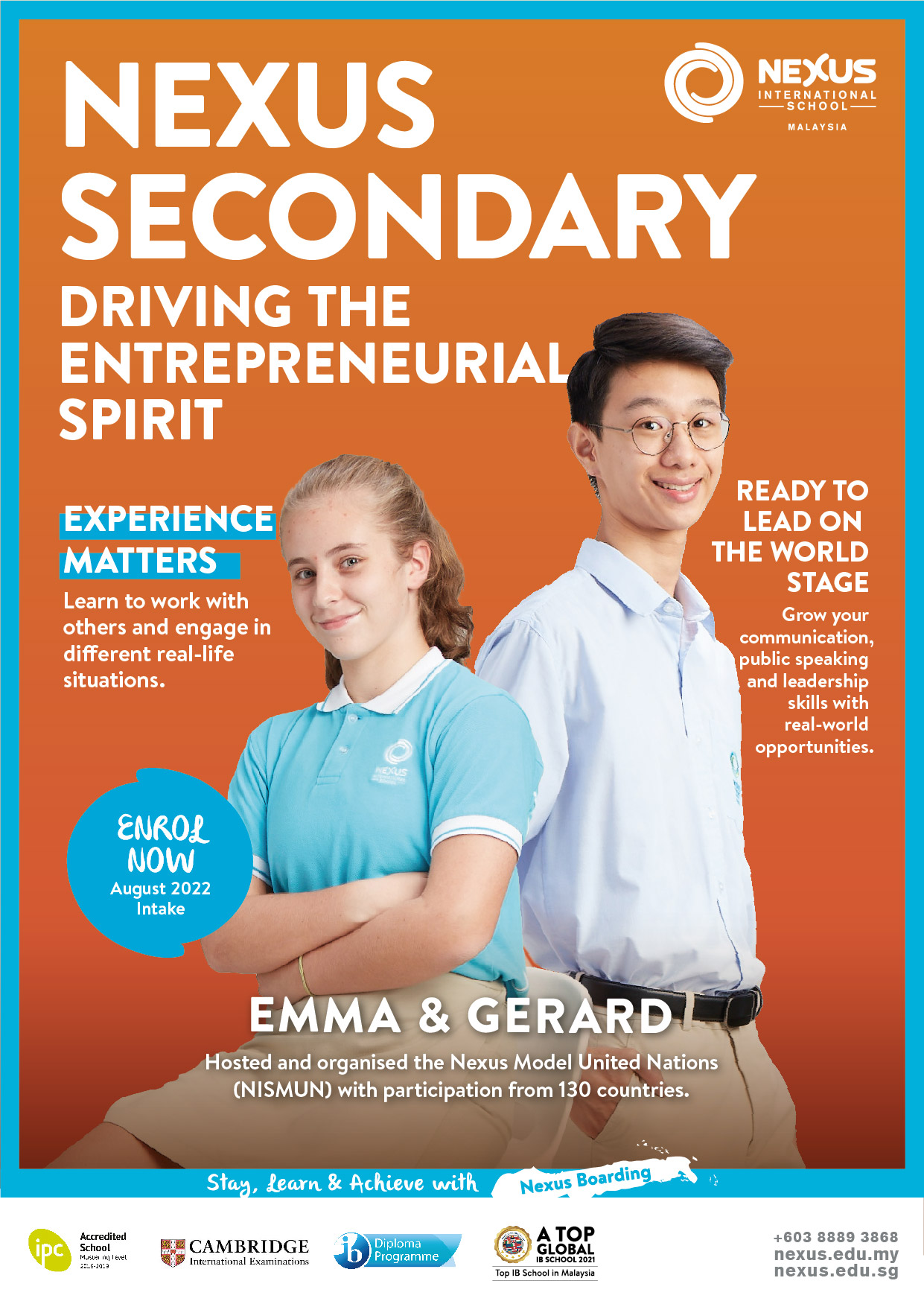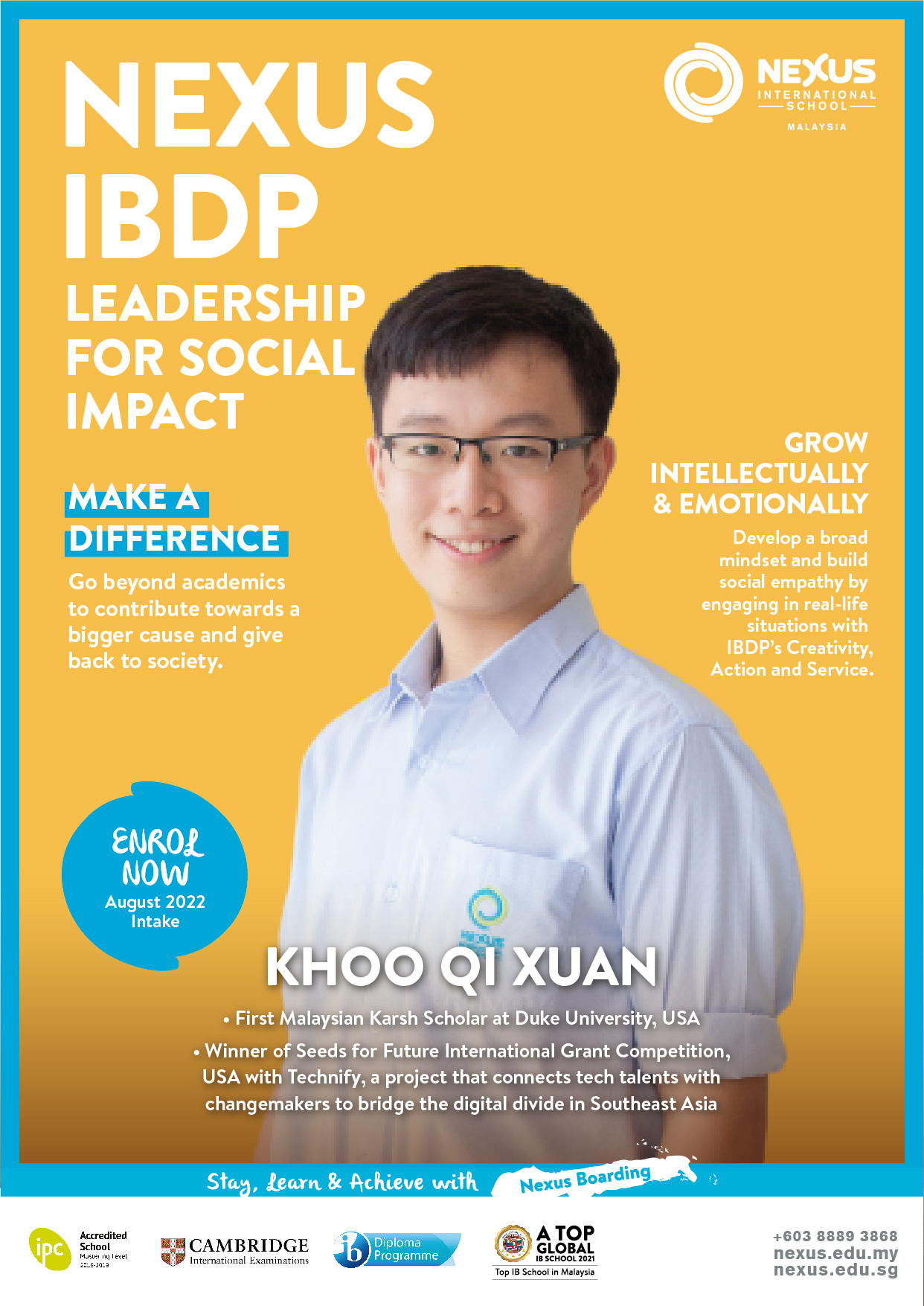 School Information