Fairview International School
4178, Jalan 1/27D, Wangsa Maju, Kuala Lumpur, 53300, Malaysia

Make an Enquiry
What is Fairview International School like?
Fairview International School (FIS) is a network of 5 International Schools in Malaysia and 1 in the United Kingdom, offering the full continuum of International Baccalaureate programmes, from the Primary Years Programme(PYP), to the Middle Years Programme (MYP) and the Diploma Programme(DP).
As one of the most established international schools in Malaysia, Fairview has been the country's trusted school of choice for over 40 years. Fairview's 3,000 plus graduates include many CEOs, successful entrepreneurs and socially responsible leaders of society.
The educational journey at Fairview is best described as a good philosophy of education, using the best curriculum available (the International Baccalaureate) and being accessible. Fairview's philosophy is anchored in 3 core values:
Everyone deserves to learn in a safe environment,
There is always a positive way to look at life, and
You are surrounded by people who take care of you like your second family.
In 2020, the school's commitment to excellence was recognised by IB-Schools.com who bestowed three awards to Fairview for its outstanding IBDP class average score of 37.3 points. The awards Fairview received were "A Top 50 Global IB School", "The Top IB School in Malaysia", and "A Top 50 IB school by Average IBDP points in 2020".
Would Fairview be suitable for my child?
Students are nurtured to be inquisitive lifelong learners at Fairview. They are encouraged to ask questions, give opinions, propose solutions and take action in their learning. They have many opportunities to reflect, improve and refine their skills. Fairview is the perfect choice for families which share those values.
Inclusivity and access to a well-rounded education is important, and Fairview has introduced a range of musical instruments for its students to learn through its Everyone's a Musician programme. In addition, Fairview students actively reflect and take action by being involved in Community and Service (CAS) activities including environmental projects, projects to help the underprivileged, charity events as well as many overseas service learning projects like providing assistance to underprivileged schools in Cambodia, Vietnam, Thailand, and Indonesia.
Fairview aims to ensure that classroom learning transforms into real life learning experiences as its students embark on expeditions to local and overseas destinations where, in addition to on site assignments and assessments, students are engaged in doing their bit for humanity.
What are Fairview's academic strengths?
Fairview's success is underpinned by its relentless pursuit of excellence through innovation and application.
Fairview's Skills Development Programme known as the Toolbox@FIS places the States of Mind of Perseverance, Resilience, Emotional Self-management, and Self-motivation at the core of the programme, so that students can develop positive habits, in order to shape attitudes that change behaviour. The Toolbox programme was awarded the "Teaching and Learning Award" by the International School Awards 2021.
The Toolbox@FIS has been designed to ensure that skills are explicitly taught to students in the PYP, MYP and DP, using research based models like Edward De Bono's Six Thinking Hats to think critically or creatively, or the Toulmin Model to know how to construct an effective argument.
Fairview students learn through stimulating activities and interactive discussion. They apply what they learnt with their classmates and prepare for assessment through effort and teamwork. Building skills is not some by-product from class activities. It is built-in at Fairview, and planned with supporting theories and models.
What facilities are available at Fairview?
Visual Art Classrooms
Science Laboratories
Air-conditioned Indoor Multi-Purpose Hall
Football Field
Basketball Courts
Auditorium
Drop off and pick up area
Counselling Room
24-hour CCTV surveillance
The following are available for KL campus only:
Dominus Arts Venue
Recital Studios and Practice Rooms for music, drama and dance
Swimming Pool
Boarding facilities
How do I apply for Fairview?
Visit the website for further information about applying to Fairview or fill in the e-application form here.
You can also call each campus directly on the numbers below.
Kuala Lumpur
Lot 4178, Jalan 1/27D, Section 6, Wangsa Maju, 53300 Kuala Lumpur, Malaysia
+603-4142-0888
+603-4149-0222
Mon - Fri: 7.30am - 3.30pm (UTC +08:00)
Sat: 8.30am - 12:30pm (UTC +08:00)
Subang Jaya
2A, Jalan TP2, Sime UEP Industrial Park Subang Jaya, 47600 Subang Jaya, Selangor, Malaysia
+603-8023-7777
+603-8023-7888
Johor Bahru
Lot PTD 168450, Jalan Dato' Onn Utama, Bandar Dato' Onn, Mukim Tebrau, 81100 Johor Bahru, Malaysia
Penang
Tingkat Bukit Jambul 1, Bukit Jambul Indah, 11900 Bayan Lepas, Pulau Pinang, Malaysia
+604-640-6633
+604-640-6632
Ipoh
Hala Lapangan Suria, Medan Lapangan Suria, 31350 Ipoh,
Perak, Malaysia
School Video
Photos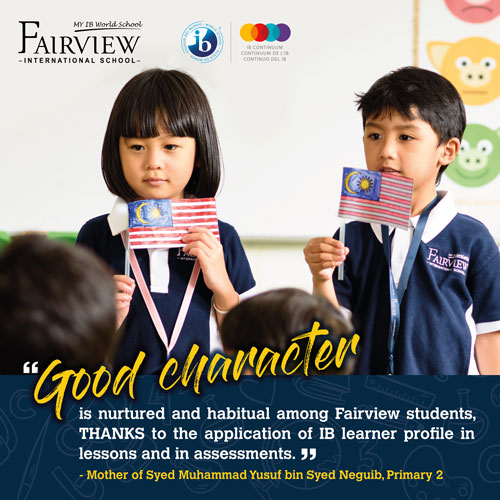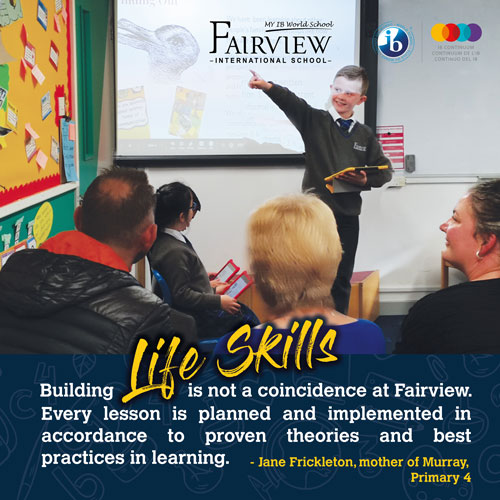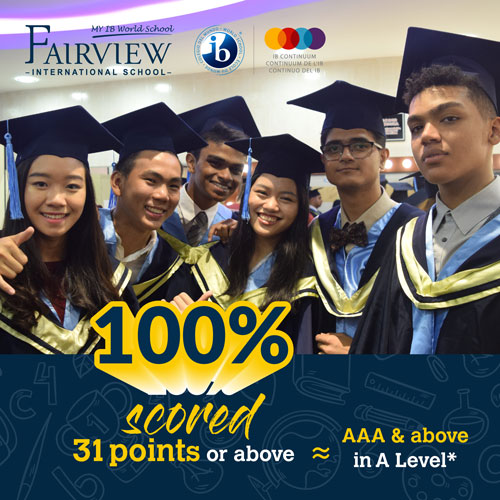 School Information




IB Curriculum
IBPYP, IBMYP, IBDP